Danny Clinch
The Clinch Method
In October of 2019, I was off to New York.
Days before my journey to the East Coast, I was wrapping up the usual off-the-wall video content I enjoy producing with/for friends/clients at Easy Street Records, in West Seattle – and as I was leaving the store, I turned to Owner Matt Vaughan,
"I'm going to New York next week for a project – anyone out there I need to meet up with?"
Matt's eyes lit up, "Yes – Danny Clinch."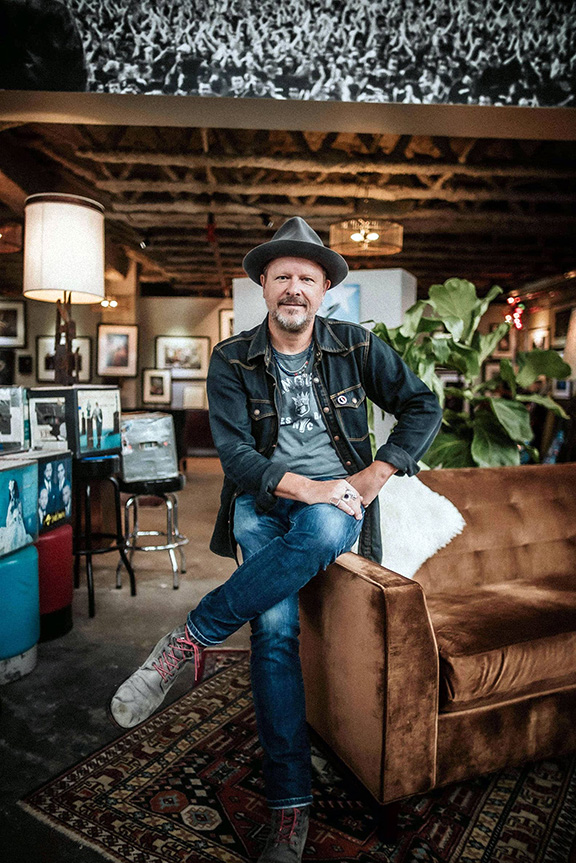 One plane ticket, a few emails, a two-hour train ride, and five days later; I was in Asbury Park, New Jersey drinking coffee at the Asbury Hotel. Around the backside of the hotel is
Transparent Clinch: an immersive art/music venue that housed all of Danny Clinch's prints & memorabilia. I was greeted by the very savvy, ever stylish Tina Kerekes – the exhibit's manager and decor expert. (Tina: you're amazing!)
Danny arrived. He gave me a tour of the gallery and we sat down to discuss his life's work, along with his ties to Pacific Northwest Artists – some of which include collaborations with Pearl Jam, Brandi Carlile, and Dave Matthews to name a few. This man lives & breathes guitars, vintage cars and rock & roll – and when he's not snapping away on black & white film, he's likely jamming on a mean harmonica with his band or any artists that swing through the gallery to perform.
If there's an iconic portrait of one of your favorite rock/hip-hop artists in the past thirty years, it's likely that Danny might have shot it. As a music geek, I was completely taken by the intimate portraits Danny has captured of some of my favorite artists, and it was delightful to meet the man behind the lens of some of my favorite iconic figures. Danny was very generous in his time with me, showing me around the Asbury Boardwalk, and cruising me around to local staples such as the Carousel House & The Stone Pony.
"The best insight into a rock photographer I've seen. It was time for Danny to be captured properly in his space, in his studio. 'Clinch Method' nails it."
– Matt Vaughan, Owner Easy Street Records
Film. Cars. Guitars. Rock & Roll.
Thank you Danny for taking time to create with me – you can bet that I'll be attending the next Sea.Hear.Now. Festival in the fall. Looking forward to future shooting!
Thanks + Cheers, 

Ryan
Special Thanks to my "manager" Matt Vaughan, & Mike McCready for contributing original music to this film.